Give us some feedback so that we can improve our teaching and learning.
2017 Premiers' Reading Challenge
Get ready for another exciting year of the Victorian Premiers' Reading Challenge. All year 7 and 8 students are signed up and ready to participate when the website goies live. Please borrow and read widely during your visits to the LRC. Read 15 books by the end of August and be rewarded with a certificate from the Premier at the end of the year. The challenge supports the wider reading requirements in English. Year 9 and 10 students are encouraged to participate too. Visit the Victorian Premiers' Reading Challenge Website to login and to find out more information about this awesome challenge.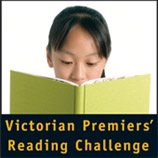 Anne of Green Gables Reimagined
What if Anne of Green Gables was a character in our times? What would she be like? This is a very creative response to a well loved classic.
Natalie Warne on Anonymous Extraordinaries
It's the acts that make us extraordinary. You don't have to be Nelson Mandela or Martin Luther King to be remarkable and unique. Everyone in their own way can be passionate and follow their dreams. You are defined by your acts. Leadership is the courage shown by ordinary people to follow and pursue their passion and dreams.