Click here to go to the blog. Find many links to online reading on the READ page.
Premiers' Reading Challenge
Get ready for another exciting year of the Victorian Premiers' Reading Challenge. All year 7 and 8 students are signed up and ready to participate when the website goies live. Please borrow and read widely during your visits to the LRC. Read 15 books by the end of August and be rewarded with a certificate from the Premier at the end of the year. The challenge supports the wider reading requirements in English. Year 9 and 10 students are encouraged to participate too. Visit the Victorian Premiers' Reading Challenge Website to login and to find out more information about this awesome challenge.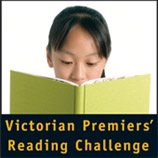 BORROWING
You can borrow 6 Fiction books for 2 weeks.
You can also borrow 6 Non Fiction books for 2 weeks.
Over the summer break you can keep all 12 books for a total of 10 weeks.
Books you borrowed over the summer are now overdue.
ADVICE FOR CHOOSING A BOOK
Can It Be for Me? A website with some excellent advice for choosing the right book.
eBOOKS
Consider the arguments in this controversial video about the future of the book.
Visit the Dandenong High School eBook Lending Facility. You can borrow 1 eBook for 2 weeks.
The school subscribes to Ziptales Visit our google page to find out the username and password.
If you have forgotten the username and password ask your teacher or go to the link in the Library Links on the Intranet. We have written the information on the link.
There are also many FREE eBOOKS on the internet.
International Children's Digital Library
Children's Books Online Stories from around the World
Lancashire Grid for Learning Website Literacy Activities and Resources
Links to free eBooks collected by Joyce Valenza (Be careful. Not all is free here).
We Are All Born Free - Read this delightful picture book which uses a simplified version of the Declaration of Human Rights
If you are in year 7 and 8 try out the iPods and the iPads and evaluate the experience of reading stories in digital, audio and print formats.
BLOGS - FIND OUT ABOUT BOOKS
Inside a Dog Register at the Inside a Dog Website (a website run by the State Library of Victoria for young people). Register using your school email. Protect your privacy by not using your whole name or a nickname. Find out about books, post a review or comment on one of the book clubs I have created.
Literature Map Try artificial intelligence to locate a book that interests you.
Mrs Mac's Library is a website that has many interesting links and information about how to celebrate reading, Book Week and the National Year of Reading.
READING AND WRITING COMMUNITIES
Inklewriter - You can choose to read or write your own choose your own adventure story.
Wattpad - A geat publishing platform that values readers. Remember if you sign up protect your privacy. Use first names only or nicknames and your school email. Do not give out personal information about yourself. Always be nice online.
Storybird - Read or write a visual story. The combination of words and writing can be very inspiring and a memorable reading experience!
GOOGLE
You can read parts of books for free. Just go to Google Books!
Here are some fantastic blogs created and run by students at Dandenong High School. Want to find out which book to read next? Check out what other students are reading!
Books of Glory

Books of Glory is a blog with some great reviews by a student who goes under the name of 'Forest Wizard'. If you feel inspired and would like to create your own blog to share reviews see Mrs Papazoglou in the LRC.

Teen Booklover

Booklover is another student who is also a prolific reader. She has kindly offered to recommend the best ones in her new blog called Teen Booklover. If you are looking for an exciting read check out this new blog. A big thank you to Booklover who has done all the hard work finding the very best books for you.

Books that light your path

Openminded is a year 9 student who has reviewed some fantastic books. Check out what Openminded has been reading.
You can download these free audio books. The first title(s) become available in April 2017. Visit the website to find out more.
AMERICAN NIGHT: THE BALLAD OF JUAN JOSÉ by Richard Montoya, Developed by Culture Clash and Jo Bonney, Performed by Keith Jefferson, Richard Montoya, Todd Nakagawa, Sean San Jose, Kimberly Scott, Herbert Siguenza, Tom Virtue, Libby West, Caro Zeller (L.A. Theatre Works)
BETWEEN SHADES OF GRAY by Ruta Sepetys, Narrated by Emily Klein (Listening Library)
BOY by Anna Ziegler, Performed by Sarah Drew, John Getz, Travis Johns, Amy Pietz, Bobby Steggert (L.A. Theatre Works)
THE DORITO EFFECT: THE SURPRISING NEW TRUTH ABOUT FOOD AND FLAVOR by Mark Schatzker, Narrated by Chris Patton (Dreamscape Media)
FEED by M.T. Anderson, Narrated David Aaron Baker, John Beach, Anne Twomey, Tara Sands (Listening Library)
FREAKLING by Lana Krumwiede, Narrated by Nick Podehl (Brilliance Audio)
THE GATHERING: SHADOW HOUSE BOOK 1 by Dan Poblocki, Narrated by Dan Bittner (Scholastic Audiobooks)
IF I RUN by Terri Blackstock, Narrated by Nan Gurley (Zondervan)
IN MY HANDS: MEMORIES OF A HOLOCAUST RESCUER by Irene Gut Opdyke with Jennifer Armstrong, Narrated by Hope Davis (Listening Library)
IN OUR BACKYARD: HUMAN TRAFFICKING IN AMERICA AND WHAT WE CAN DO TO STOP IT by Nita Belles, Narrated by Nicol Zanzarella (Oasis Audio)
METAMORPHOSIS by Franz Kafka, Narrated by Martin Jarvis (Naxos AudioBooks)
MY NAME IS NOT EASY by Debby Dahl Edwardson, Narrated by Nick Podehl, Amy Rubinate (Brilliance Audio)
REBUTTAL by Jyotsna Hariharan, Narrated by Phoebe Strole, Michael Crouch, Nina Mehta (HarperAudio)
REMEMBER TO FORGET by Ashley Royer, Narrated by Will Lasley (Blink)
THE PICTURE OF DORIAN GRAY by Oscar Wilde, Narrated by Greg Wise (Naxos AudioBooks)
PLUS ONE by Elizabeth Fama, Narrated by Julia Whelan (Elizabeth Fama)
THE SOULS OF BLACK FOLK by W.E.B. Du Bois, Narrated by Rodney Gardiner (Dreamscape Media)
SUGAR by Deirdre Riordan Hall, Narrated by Tara Sands (Brilliance Audio)
TEENAGE DIARIES: THEN AND NOW by Radio Diaries, Hosted by Joe Richman (HighBridge Audio)
Having trouble finding a good book.
Try the link below and see if it helps.
Working in groups, use the document below to evaluate the Reading Links.
Why not plan to take up this fantastic challenge?
Aim to incorporate a reading hour into your school week!
A link for the countdown to the event in 2015 will be added and new information as it becomes available.